The Secret
asalamualaikum...
sementara ade gap di siang hari + lapor2 kerana puasa...
terkeluar gak stu post....
melihat dri title tuh nk kongsi sket lah ttg stu bku "The Secret" by Rhonda Byrne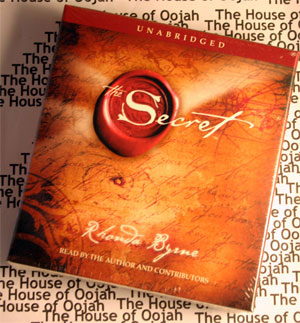 x bce pon lagi bku ni..
tpi really want to read it...
bku nie dipromote oleh cikgu chemistry ku Miss Tee..
pada mlenye, kmi stu prac ade wat stu test oleh beliau...*susah kot soklan die....
then, lpas abis test tuh die suruh kteorng ksi comment psl test tuh n reason...+ how to improve it...
hmm... hentam je la..
ak ckp lack of exercises n how to improve is do more exercises la....haha..
meh ak ksi sket sinopsis yg ak search kat google, mr Google thanks ye:
The Secret is The Law of Attraction. This is a concept that states that whatever is going on in your mind will be attracted into your life. Therefore, think thoughts of abundance and wealth – and let no contradictory thoughts in – and you can have anything you want. Likewise, thinking about negative things in your life will only produce more negativity. In essence, The Secret explains that the intentions in your mind send instruction to the Universe and you get exactly what you think about. The process is broken down into three steps: ask, believe, and receive.
The Law of Attraction goes beyond positive thinking. The book emphasizes the use of visualization techniques, gratitude, faith and affirmations to help focus your mental energy. The overall concept requires that the individual believes strongly in the process. Believing is defined as "acting, thinking and speaking as if you have already received what you are asking for."

The book describes The Secret through the voices of many highly successful experts from many different fields including philosophers, psychologists, life coaches, motivational speakers, and business professionals. Each explains their understanding of the Law of Attraction and how it affects reality. The underlying theme is all the same: you are the creator of your own destiny. Your thoughts have the power to manifest your desires